Portfolio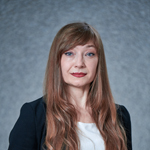 Гертнер Елена Геннадьевна
Магистр
Education
| | | |
| --- | --- | --- |
| 2005 | Северо-Казахский государственный университет | иностранный язык: два иностранных языка |
Scientific publications (last 3 years)
Гертнер Е. Г., Motivational foundation of phraseological units (on the material of the german fiction and lyrics), Materials of International scientific and practical conference "Modernization of Education – the Key Factor of Human Resources Quality Improvement". - Petropavlovsk: M.Kosybayev NKSU, 2019. - 86 p. открыть
Саутбаева А. К., Гертнер Е. Г., Probleme der Interferenz im FSU, Сборник материалов МНПК "Наследие Магжана Жумабаева и духовность", СКГУ им. М.Козыбаева, 25.06.2018.
Гертнер Е. Г., Zum problem der Klassifikation von kognitiven Metaphern, G-Global
Гертнер Е. Г., Die Rolle der hyperonym-hyponymischen Beziehungen im Kategorisierensprozess, Вестник СКГУ им. М. Козыбаева/Серия филологическая, №1(34), 2017 год. Издательство СКГУ.