Welcome speech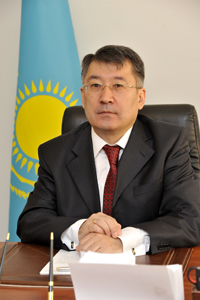 Dear friends!
This year we celebrate the 80th anniversary of our university.
We were fortunate enough to meet this anniversary date with our university and step into the ninth decade of its glorious history. We are sincerely glad that we have reached this milestone with worthy results.
During its history our university has become a school of higher professional knowledge for more than 40 thousand people. We are proud of our graduates, students, undergraduates, doctoral students, employees and veterans.
M. Kozybayev NKSU enters updated in the anniversary year, its structure has changed, new development priorities until 2019 have been determined. We have something to strive for, we have set ourselves an ambitious task: to enter the top 10 of the national ranking of the best multidisciplinary higher educational institutions of Kazakhstan.
From the bottom of the heart I congratulate everyone, for whom M. Kozybayev NKSU became the second home, with this solemn date and I sincerely thank the staff of the university for conscientious work, for responsibility, for devotion to the ideals of science!
Omirbayev S.М.,
Rector, Doctor of Economic Sciences, Professor
Congratulations new 1
Поздравить
Events
<<
January, 2021
>>
Mon
Tue
Wed
Thu
Fri
Sat
Sun
1
2
3
4
5
6
7
8
9
10
11
12
13
14
15
16
17
18
19
20
21
22
23
24
25
26
27
28
29
30
31
Outstanding graduates
Кузнецова (Загороднева) Светлана Сергеевна
Неоднократный призёр чемпионатов Казахстана в беге на 200,400,800 метров, призер международных соревнований, участница двух чемпионатов мира, участница первых евразийских игр
Специальность «Физическая культура и спорт» (2014)
Легостаева Любовь Валентиновна
Кандидат экономических наук, зав. кафедрой, доцент кафедры «Экономика и учет» СКГУ им. М. Козыбаева
Специальность «Экономика и управление в машиностроении» (1993), «Экономика и управление народным хозяйством» (2006)
Казиева (Ахметова) Нургуль Урумбаевна
Корреспондент телеканала «24kz»
Специальность «Журналистика» (2010)
Фесько Виталий Вячеславович
Заместитель генерального директора по производству, главный инженер АО «Северо-Казахстанская Распределительная Электросетевая Компания»
Cпециальность «Электроэнергетика» (2008)
Films about the university
A series of films about M. Kozybayev NKSU history:
Books about the university