7M01701 Foreign Language: Two Foreign Languages
Institute of Language and Literature → Department of Germanic-Romanic Philology
Certificate of accreditation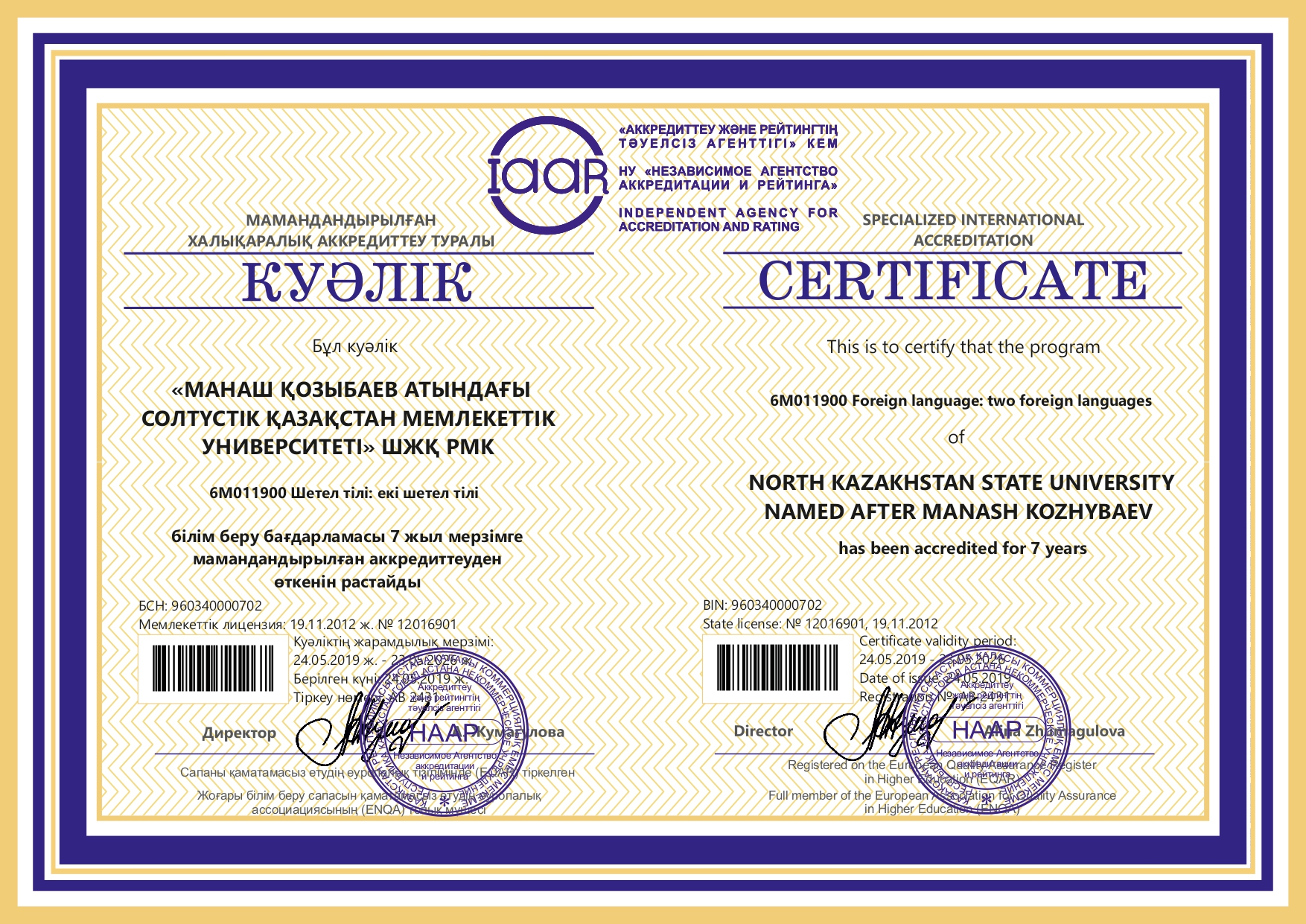 Academic degree: Master of Pedagogical Sciences in the specialty "7M01701 Foreign Language: Two Foreign Languages"
Duration of study: 2 years
Year of foundation: 2011
The purpose of the master's program is to train specialists with a foreign language education who are creative and able to compete not only on the domestic market, but also on the world labor market.
Objects of professional activity:
Training of personnel in the Master's program is carried out in the scientific and pedagogical direction. The scientific-pedagogical magistracy implements educational programs for post-graduate training of personnel for the system of higher, postgraduate education and the research sector, which have in-depth scientific and pedagogical training. In the framework of this program, the undergraduate receives a thorough preparation, which gives him the right to engage in scientific research and scientific and pedagogical activities, including teaching in higher education.
Types of professional activity:
- scientific and pedagogical;
- research;
- educational and pedagogical.
Language of instruction: Russian.
Learned languages: Kazakh, English, German, French, Russian.
Magistrates during the period of study are engaged in research activities, take part in scientific congresses, conferences of various levels, foreign internships.
Within the framework of academic mobility, undergraduates within one semester have the opportunity to undergo training in foreign universities of different countries: the USA, Germany, Poland, etc.
The scientific and pedagogical practice of undergraduates contributes to the improvement of the scientific level and professionally significant competencies, taking into account the specifics of foreign language education and scientific research.
Learning outcomes 7M01701 Foreign Language: Two Foreign Languages